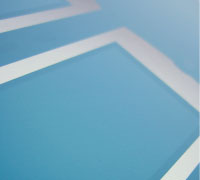 In conventional flat processing screen, due to its high smoothness adhesiveness becomes high and it may cause poor peel off. When the adhesiveness between screen and print material is high, it may cause rapid peel off which may cause bleeding or others.
In SERIA NEO flat process, edge area to print is applied flat process and other areas are emboss processed, due to this 2 types of surface treatment is mixed in the same screen, it becomes possible to improve peel off without impairing printability.
Feature of NEO-FL mask
Expecting improve of print quality due to improved peel off
Flat area and emboss area can be selected arbitrarily
Long life and durable compared with direct film
Application of NEO-FL mask
Frame print such as smart phone, flat panel display
Print on glass or mirror finish materials
Print high-viscosity, high thixotropy ink
Structure of NEO-FL mask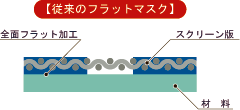 Due to no air escape and a material and screen sticks and cause poor peel off.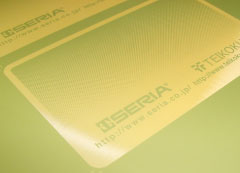 Conventional flat mask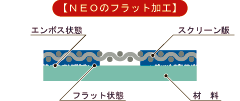 Emboss area reserves air escape route and improves peel off.
Preventing ink litter caused by the static electrics and also prevents adsorption between material and screen.
NEO-FL mask