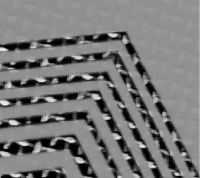 In order to corresponding to [narrower, higher] requirement, we have evolved our FL mask and further improved smoothness of emulsion surface + high resolution.
Rising edge of patter prevents ink bleeding, running back side and could be able to perform fine print continuously.
Due to the matching with SUS mesh, it is stable in the accuracy and we can call this mask as [Special flat mask].
Feature of Ultima-FL mask
It is possible to get similar or more smooth flatness compared with direct film.
Possible to set precise film thickness and flatness will not detracting even the thin film.
High durability and long life compared with direct film.
Application of Ultima-FL mask
Wiring electrode formation on the touch panel/film or glass.
Electronic component such as ceramic capacitor.
Other fine line/fine pitch prints.
Construction of Ultima-FL mask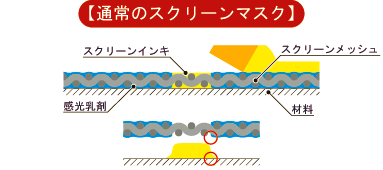 Emulsion surface picks up asperity of the mesh and not flat and smooth, and thus opening edge is not sharp.
This will cause to ink goes rear side and bleeding.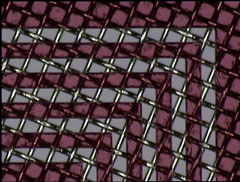 50µm Line/Space (x200)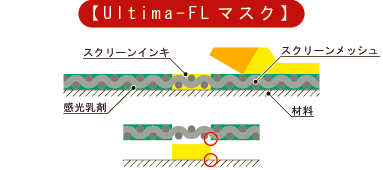 Emulsion surface is flat and edge of pattern is sharp and prevent ink goes rear side.
This is not only improving bleeding but also reduce cleaning of screen and in return improving productivity.